We do not always have puppies available. To request information on future puppies, fill out the form below.

CALL FOR INFORMATION ON UPCOMING LITTERS!
(( Contact us at 856-404-3047 and reserve your pup today! ))
---
My name is Cyndi and I would like to introduce you to my Keeshonds. We have AKC registered Keeshonds. I have been exclusively raising Keeshonds since 1982 and is the only breed I have ever owned or will own. This breed is extremely intelligent and a wonderful addition to any family unit. Please come and meet them and see for yourself. Visitors are always welcome to come visit and meet my Kees, they will meet you at the door with waggy tails and bunches of kisses. I love my dogs, they are my life and they can be yours as well. I am a Proud member of the Gloucester County Kennel Club.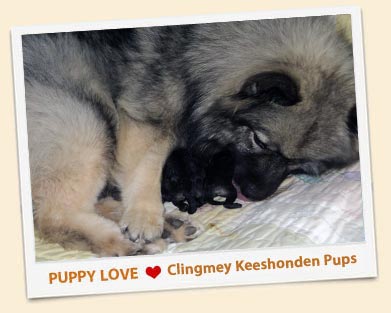 Don't miss out on a future liter, fill out the form below for upcoming news or events..
---

(click on link to view image)

Just Born


(click on link to view image)

12 Days Old


(click on link to view image)

16 Days Old
---
Things to know
All companion Puppies are sold with spay/neuter contract. (To see sample of our companion puppy- contract, click here.)
ALL companion PUPPIES ARE SOLD WITH LIMITED REGISTRATION
Responsible Reputable Breeders care about the future of their breed and the quality of puppies they bring into the world.
Responsible Reputable Breeders DO NOT breed to make money, but to produce the best quality companions that conform to the Breed Standard, such as performing the work their breed was intended for with good working aptitude, and are of good health. (For more about Reputable Breeders, click here)
Please be careful who you purchase your new Keeshond from, there are alot of people who do not do the proper testing, such as the PHPT test. We want healthy Keeshond babies out there.Be leary of breeders who have kees puppies readily available. Be sure to meet the parents, and ask questions!!!
When we have a litter of Keeshond puppies due to be born, we stay with the mother until after the delivery to make sure the puppies are healthy and able to nurse. Once the litter is born, the puppies are exposed to different sounds and environments to prepare them for the real world, this helps them become less fearful of sounds and the environment around them. Puppies are wormed starting at 2 weeks of age, and are started on puppy mush mixture at 3.5 weeks. The puppies go to the vet at 7 weeks of age and they are checked by the vet, receive their 1st set of vaccinations, and they are checked for parasites. Puppies are weighed weekly; this is done to make sure they are getting the nourishment that they need, by the time they leave me at 8 weeks of age, they are eating dry solid puppy food. Most people who get a puppy from me either have had a Keeshond before or do have one now. We have many clients who come back for 2nd puppies. We strive for healthy well socialized pups.
We use professional ground pet transport services to ship our Keeshond Puppies. My puppies are well cared for by myself and handled multiple times throughout the course of a day. I breed for excellent temperment so as not to have any of my puppies scared or nervous going out into the real world.
Call Us Today! 856-404-3047. We encourage visits while the keeshond puppies are growing so you can see their progress. I care about all of these puppies as if they are my own. AKC Companion Puppies are sold with limited registration only, this means you can compete in events such as Agility, Rally etc. or have them as pets, however you can not breed them.
---
Keeshond Puppy Videos
---
KeeshondPups.com
If you have any questions, please feel free to email us at