We do not breed on a regular basis, but when we do decide to have a litter we carefully take the time to pick out and research something that we would like to have. If you are looking for a puppy from Clingmey and we do not have a litter planned do not worry we can refer you to a reputable Keeshond breeder or place you on a puppy waiting list. When looking at other breeds in the "spitz" family, the "Keeshond" is less yappy with their bark, they are intelligent and intuitive. Bright and happy the Keeshond needs moderate exercise and companionship. Keeshonden are very people-oriented, they crave attention and love to be part of a family. So whether you spell it Keeshound, Keeshounds, Keyshounds, Keyshond all in all what you get is a happy keeshond puppy.The Keeshond name may be mispronounced Kay sawn, Case-hond, Kas-hond, Keys-hând, Keesh-ond, Keesh-hond, Keeshond, and Keesh-hound.
"Keeshond puppies" are very playful and mischievious and early socialization is important to build an outgoing, confident temperament. Keeshonds will bark, they have excellent hearing. Keeshonds normally get along with other pets in the household.
"Kees" are also known as the "Smiling Dutchman" "Wolfspitz" "dutch barge dog" once you see they curl the lip and show their teeth in a funny grin you will see the difference. It is definately a smile.. Keeshonds can be trained for almost anything, Service dogs, Therapy Dogs, they have a very high intelligence and love to please their owners. Two  of my past puppies are Pet therapy certified, what a wonderful accomplishment for this breed.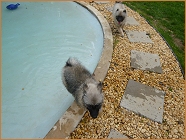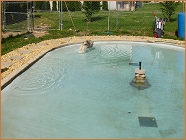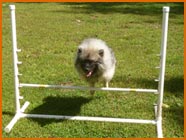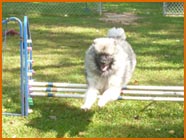 The Keeshond is a very old breed, and have always been raised for watchdogs and family companions. Never being bred to hunt, kill other animals etc. accounts for their gentleness and intelligence. They are devoted to their family as home loving dogs and have a special kind of love for children. The first Keeshond was registered with the AKC in 1930 under Keeshonden in the Non-Sporting group.
Some of our Keeshond Show Championship Dog Awards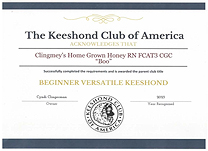 Keeshond pups prefers not to ship our puppies, we want to meet the new families who will safe guard one of our puppies for their entire life. Our keeshond puppies live in some of the following states as well as Canada:

Alabama, Arizona Arkansas, California, Colorado, Connecticut, Delaware, Florida, Georgia, Illinois, Indiana, Kansas, Kentucky, Louisiana, Maine, Maryland, Massachusetts, Mississippi, Missouri, Nevada, New Hampshire, New Jersey, New Mexico, New York, North Carolina, Ohio, Oklahoma, Pennsylvania, Rhode Island, South Carolina, Tennessee ,Texas, Utah, Vermont, Virginia, and West Virginia.
Give us a call at 856-404-3047, we'd love to talk about our Keeshonds.